Director: Jake Syzmanski
Writer/s: Andrew Jay Cohen, Brendan O'Brien
Starring: Zac Efron, Adam Devine, Anna Kendrick, Aubrey Plaza, Sugar Lyn Beard, and more.
'Mike and Dave Need Wedding Dates' Trailer
It has been quite clear that Zac Efron has left his High School Musical days behind and has since moved on to the "raunchy comedy" category of Hollywood and I mean, come on, the man is hilarious! While not alone, Zac works with three other notable comedy stars by the names of Adam Devine, Anna Kendrick, and Aubrey Plaza. The group brings a brand new comedy titled 'Mike and Dave Need Wedding Dates' to a screen near you.
'Mike and Dave Need Wedding Dates' is quite the self-informing title. Mike and Dave (Adam Devine and Zac Efron) are two brothers who party a little too hard when it comes to their family gatherings. Upset at this, their parents and sister Jeanie (Sugar Lyn Beard) decide that the brothers would be more well-behaved if they found two nice girls for the upcoming wedding for Jeanie herself. Aiming to be the best brothers they can for their sister, the brothers decide to post an online-ad for an all expenses paid trip to Hawaii for the wedding. The ad goes viral attracting eyes from all over the world but two ladies see the ad, Alice and Tatiana (Anna Kendrick and Aubrey Plaza), and they become determined to get the attention of the brothers and impress them with their good-girl demeanor although they are far from it.
After being chosen by the brothers, the four go to take on Hawaii and prepare for Jeanie's wedding but Alice and Tatiana have plans to enjoy themselves as much as they can while trying to continue their good-girl look. Their ulterior motives begin to be more evident as the days pass and it begins to slowly ruin the wedding while also shocking Mike and Dave with their hardcore party mentality. This results in more of a rescue mission to save the wedding than a personally enjoyable trip for both duos.
Some may know that I am a big fan of Zac Efron and his comedy line of movies and 'Mike and Dave Need Wedding Dates' falls right along that line. This film had plenty of hilarious moments throughout and had me genuinely entertained with the amount of over-the-top humor it presented. On top of the moments, Anna Kendrick, Zac Efron, Adam Devine, and Aubrey Plaza did a great job every moment they were on screen, bringing the laughs every chance they could. I have been waiting to see Anna Kendrick let loose on screen for a while and with this film and also 'Get A Job', it was awesome to finally see that. Adam Devine is naturally ridiculous with every on-screen shot and never fails to get a laugh out of a crowd and even his co-stars (See gag reel at the end of the film). Although hilarious, an avid movie lover will notice the pointless and utterly ridiculous plot and sometimes way over-the-top antics. Regardless, this is just another raunchy comedy fit for mindless entertainment. I am a fan and if you like movies like 'Neighbors' or 'Dirty Grandpa', it will be one you will be a fan of too.
Rating: 2.5/5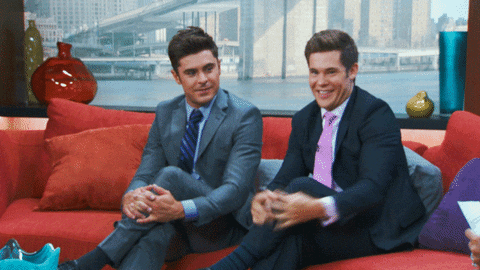 References:
http://www.imdb.com/title/tt2823054/?ref_=nv_sr_1
http://www.imdb.com/title/tt2823054/fullcredits?ref_=tt_cl_sm#cast
http://www.imdb.com/name/nm1374980/?ref_=ttfc_fc_cl_t1