Director: Nicholas Stoller
Writers: Andrew Jay Cohen, Brendan O'Brien, Nicholas Stoller, Evan Goldberg, Seth Rogan
Starring: Seth Rogan, Rose Byrne, Zac Efron, Chloë Grace Moretz, and more.
The sequel to the 2014 hit comedy has arrived and this time, Mac and Kelly Radner face-off with a sorority instead of a fraternity. 'Neighbors 2: Sorority Rising' comes at audiences in full force on May 20, 2016 with its raunchy inappropriate comedy. It is old vs. young part 2, but will the old triumph once again against college crowd? Round 2 begins now.
'Neighbors 2' starts us off with a familiar pair consisting of Mac and Kelly Radner (Seth Rogan and Rose Byrne). The two are currently in the process of selling their old home in order to move to their nicer home away from the college scene even though the former Delta Psi party home next door is now vacant. Before the couple can move out though, they must wait thirty days through an escrow period. The seemingly simple process of this escrow period becomes a living nightmare as a sorority then moves into the house next them, led by Shelby (Chloë Grace Moretz) and her two co-leads Beth and Nora (Kiersey Clemons and Beanie Feldstein). The sorority came to be after the three girls found out they could not party in an actual sorority house and so they sought out to create their own where they can party and do as they please. Which leads them to the conveniently open house right next to the Radners. With this chain of events, it leads to the second war between college kids vs. Radner family, but a familiar face gets involved against the Radner family; Teddy Sanders (Zac Efron), making the war even more sloped against Mac and Kelly.
Prior to my viewing of this film, I received a lot of mixed criticisms about 'Neighbors 2'. A lot of which were either "Do not go see it" or "Eh, it was ok" or lame, corny, stupid, etc etc. I prepped myself to be very disappointed in the sequel but after finally seeing it, it was not that bad. I will say that I still enjoy the first one much more over this installment but this one was still funny enough with similar elements of the first. It is the same stupid humor (Not in a negative way) that Seth Rogan delivers with most of his movies and the same drug heavy, over-the-top style. However, 'Neighbors 2' did seem a bit stretched out in regards to the plot to make this one happen. The ladies of Kappa Nu in 'Neighbors 2' did not throw the hilarious blows like Teddy and Delta Psi did in 'Neighbors'. There seemed to be way more one-liners for audiences to love in the first rather than the second. All in all, the sequel brought enough laughs and crazy antics to entertain but just not to a level that the first one did. If you were a fan of the first, I would definitely recommend to check out the sequel just to see our favorite characters of the Radner family and Teddy back again and ultimately see what wild situations they get themselves into for the second go-around.
Rating: 2/5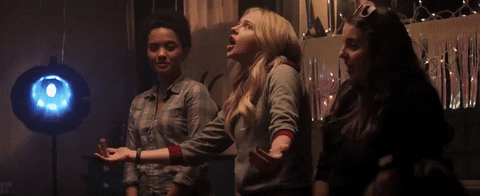 References:
http://www.imdb.com/title/tt4438848/fullcredits?ref_=tt_cl_sm#cast
http://www.imdb.com/title/tt2004420/?ref_=nv_sr_2