Director: Shane Black
Writers: Shane Black, Anthony Bagarozzi
Starring: Russell Crowe, Ryan Gosling, Angourie Rice, and more.
May 20, 2016 brings a double up in the form of 'The Nice Guys', starring Russell Crowe and Ryan Gosling. The film is a Crime/Action/Comedy directed by Shane Black. The two bring a chemistry together that is honest and hilarious which carries the film well. Set in the 1970's of Los Angeles, the two private investigators take on a mysterious case which unravels itself into a much more complex case than it seems.
'The Nice Guys' kicks off with Jackson Healy (Russell Crowe), a hard-nosed PI that delivers results with every case he takes. He opens the film up with a display of his brash methods of attaining information, and they are quite hilarious at times as well. As the story continues, Jackson crosses paths with Holland March (Ryan Gosling) as their cases intertwine and Jackson must tell Holland to quit his search of Amelia Kuttner (Margaret Qualley). Reason being that Amelia has a part in the strange suicide of Misty Mountains, a porn star whom of which her death sparked the pair of Healy and March to find their individual cases and eventually intertwine, as previously stated. After Healy stops March from his investigation, Healy then has an interaction with two hitmen who assume Healy has information on Amelia. After said interaction, he realizes that March may have been onto something which turns Healy from against March to teaming up with him. As the two begin their joint investigation, it leads them into an extremely complex case that goes beyond their original "suspicious suicide" case.
Overall, I was disappointed by this film. I had such high hopes for 'The Nice Guys'. The trailers sold me, the actors and actresses had my attention. I was all-in for this but after my viewing of it; it was good and entertaining but it ultimately fell short of my expectations. Let us start with the good. Crowe and Gosling delivered. I digged their chemistry, they balanced each other out very well and the comedy hit well for me. I felt Gosling had the stronger performance and I was enjoying every scene with him in it. The 70's private investigator feel of the film was also enjoyable to me. Now for the negatives… Too drawn out. The film felt way longer than needed. To be honest, the characters of Jackson Healy and Holland March are not very developed besides being brutal yet comedic characters. The film tries to give the two characters a background story but it feels forced and forgetful. Bottom line: 'The Nice Guys' had incredible potential for me but it ended up falling short. Primarily due to the drawn out story and a lack of character development. Although still funny and pulling enough; just an average movie.
Rating: 2.5/5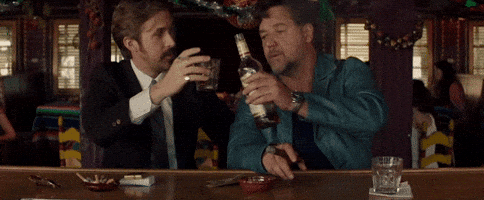 References:
http://www.imdb.com/title/tt3799694/fullcredits?ref_=tt_cl_sm#cast