Director: Christian Ditter
Writers: Abby Kohn, Marc Silverstein, Dana Fox
Based off the book Liz Tuccillo
Starring: Dakota Johnson, Rebel Wilson, Leslie Mann, Anders Holm, Jake Lacy and more.
How many of you all saw the blockbuster that was 'Fifty Shades of Grey'? What an epic of a film am I right? Okay, that was hard for me to type. I swear I have a segway for this start-up, ready? Dakota Johnson. The latest romantic comedy starring the lead actress of that "blockbuster" that released on February 12, 2016 and has been doing steady work in theaters and making audiences laugh all over the nation. With a star studded cast and a modern day plot to appease the crowds, 'How to Be Single' is possibly the right film for you.
'How to Be Single' follows an ensemble of characters throughout the film. The primary focus is on a young woman aiming to find herself, Alice (Dakota Johnson). She travels to the big apple, New York City, in order to complete her goal of finding out who she truly is and is quickly consumed by the New York nightlife for singles along with her office-mate and co-single life partner Robin (Rebel Wilson). As these two and their stories unfold, other stories begin to take place too. One, for example, is the story of Alice's sister, Meg (Leslie Mann), who is EXTREMELY single yet desires to get pregnant but things get complicated once she meets Ken (Jake Lacy) and begins to fall in love with him after she already took steps in order to get a baby. Other stories are told from different perspectives like single dad David (Damon Wayans Jr.), bartender and swinger Tom (Anders Holm), and the online dating queen searching for the perfect guy, Michelle (Sarah Ramos), as well as a few other supporting characters. Some of these people cross roads at some points and some do not but nonetheless, it creates quite the story as the film continues from beginning to end.
Overall I enjoyed 'How to Be Single'. As I said before, the plot is a very modern plot that many people have either been involved in or have been a witness to personally and all while everything happens, it is quite comical from beginning to end. Each actor and actress had a very entertaining and comedic role and all brought a creative energy to the film with each minute that passed. Dakota Johnson included. After seeing 'Fifty Shades of Grey' (yes, I know, I watched it, stop judging), I thought Dakota was unimpressive to say the least but in 'How to Be Single', she brings a very low-key comedic energy to the table and I found myself laughing at many of her quips and one-liners. One last point that I thoroughly enjoyed was how the film was shot. It showed excellent shots of New York City capturing the beauty in the city. Also there was a small feature that I liked in the form of how a small text box would pop up as the characters were about to text another person through their cell phones. I thought it was creative and refreshing. A few points that I was not a fan of this movie were for one, there are a few time lapses that are confusing to follow. Sometimes it jumps a couple weeks, sometimes a couple months and it was just hard to follow at times. Another point was, as much as they brought great energy, the introduction of all the characters seemed quick and forced to a point where it is a little confusing to remember who was who and their relation to the story.
All in all, as I said, I overall enjoyed this film for what it was worth as a romantic comedy. It was refreshing and modern. The cast brought a great comedic energy in their own unique ways. I would recommend this movie as a great candidate for a nice date night out. Although even the story is something interesting to embrace.
Rating: 2.5/5
Modern and comedic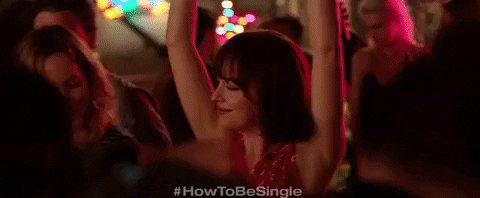 References: